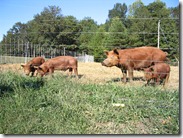 Our pastured pork comes from Tamworth pigs.  We chose the Tamworth breed for several reasons.  Tamworth's are a heritage breed and we liked the idea of raising a breed from the past that had not been genetically "improved" to do well in confinement.
Swine breeds can be categorized into two main types: lard type or bacon type.  Tamworth's are bacon type hogs which have a leaner meat than lard types.  The Tamworth originated in Ireland where it was known as the Irish Grazer for its natural inclination to graze grass – exactly what a grass farm needs.  Tamworth's are red in color so they don't sunburn as easily as a white pig and have more heat tolerance than a black pig.  And most importantly, the Tamworth has the reputation for producing excellent tasting meat.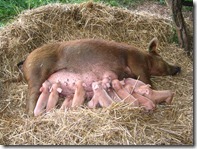 We raise our pigs in a natural, pastoral environment.  They co-graze the pastures with the  cows and sheep and have access to woods for shade and shelter.  While grazing makes up a significant part of their diet, since they are omnivores and not ruminants, we provide them with a supplemental ration of feed (ground corn, soybean meal, vitamins and minerals).  We do not use farrowing crates.  Our sows farrow out in the pasture in nests we build for them in a sheltered area.  This gives the baby pigs immediate access to fresh air and sunshine and they quickly learn from mama that grass is good.
Our pastured pork not only tastes great, but it is much healthier than grocery store pork.  It is lower in total fat, has a healthier Omega-3 to Omega-6 ratio, and more Vitamin A and Vitamin E.  We are currently offering our whole hog sausage.  And we don't cheat and pull out the select cuts.  Except for the liver and bacon, the meat of the whole hog is ground together to make a delicious sausage.  Our sausage will bring a new excitement to your breakfast.