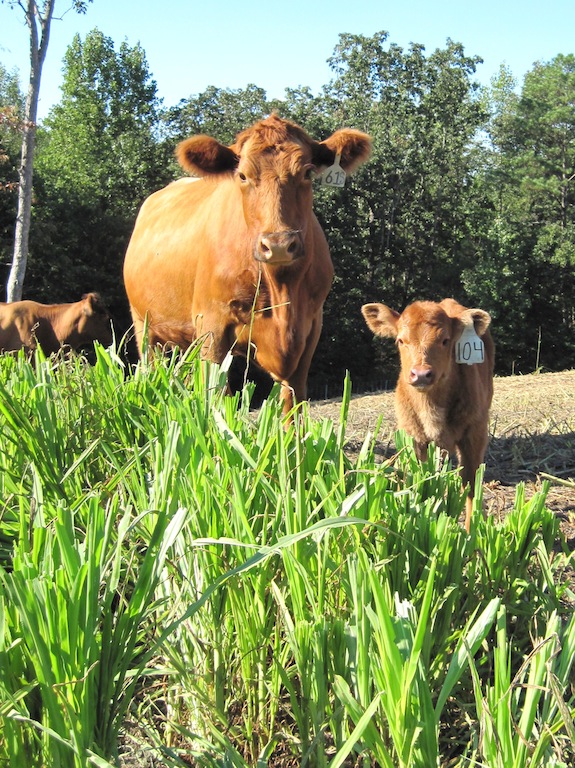 On Saturday, November 18, Dennis Farms will be at the Carrollton Holiday Gift Bazaar and Farmer's Market. The Holiday Bazaar will be held at the East Carrollton Rec Center from 9am-5pm. In addition to the familiar vendors of the Cotton Mill Farmer's Market, there will be local crafters and artisans, as well as many family friendly activities. It's a great opportunity to pick up some Christmas gifts and to get some of your holiday grocery shopping out of the way a little early. We'll be fully stocked with our Dennis Farms Primeburger, Whole Hog Sausage, Pork Cuts, Leaf Lard, and Lamb.
To inspire your Holiday menus, we wanted to share a few recipes that work particularly well with our products. Most of you are familiar with our Whole Hog Sausage, and one way we like to use it at the holidays is in a breakfast casserole. If you're expecting houseguests, it's a great way to feed a crowd in the morning.
We also do quite a bit of baking around this time of year, and our Dennis Farms Leaf Lard makes the flakiest and most delicious pie crusts or southern style biscuits. We also use it extensively in our savory cooking; it's great to sauté veggies in or for browning meat. If you scroll to the bottom you'll find a couple of recipes below for your cooking and baking pleasure.
We would love for you to stop by the Holiday Bazaar and say hello as we enter this 2017 Holiday Season.
We appreciate your continued support of our farm and our efforts to provide you and yours with a healthy, wholesome, quality product. We look forward to seeing you there!
MAKE AHEAD BREAKFAST CASSEROLE
Serves 6-8
10 oz frozen hash brown potatoes (shredded)
6-8 oz cheddar cheese, shredded
1 lb Dennis Farms Whole Hog Sausage
6 slices bacon
6 large eggs, lightly beaten with salt and pepper
8-12 cherry tomatoes, halved
This is is a great make ahead recipe. It can be prepared the night before and then baked in the morning for a no-hassle breakfast that's perfect for when you have houseguests.
Place half of the shredded hash browns into the base of the dish. There's no need to thaw them. Scatter over with half of the grated cheese.
Fry the sausage and bacon over med-high heat until golden brown and crispy. It may be best to do this in two batches depending on the size of your skillet. Break the Sausage up into small crumbles as it cooks, and crumble the bacon when it's done. Drain the meat and scatter it over the cheese and potato mixture.
Add the rest of the shredded hash browns and then pour the beaten eggs over, pushing down the ingredients with the back of a fork. Arrange the tomatoes on top and then add the rest of the grated cheese over the top. Cover and let sit overnight in the fridge.
The next day, take the casserole out of the fridge and allow to come to room temp while you preheat the oven to 400. Bake for 30 to 45 minutes, or until it is set, puffed up and golden brown.
Cut into squares and serve immediately.
PIE CRUST
makes enough for a double crust pie, or two singles
2 1/2 cups all purpose flour
1 tsp sugar
1 tsp salt
1 cup leaf Lard, chilled
1/4 to 1/2 cup very cold water
In the bowl of a food processor, combine flour, salt, and sugar. Add Lard/butter, and process until the mixture resembles coarse meal, 8 to 10 seconds.
With machine running, add 1/4 cup ice water in a slow, steady stream through feed tube. Pulse until dough holds together without being wet or sticky; be careful not to process more than 30 seconds. To test, squeeze a small amount together: If it is crumbly, add more ice water, 1 tablespoon at a time.
Divide dough into two equal balls. Flatten each ball into a disc and wrap in plastic. Transfer to the refrigerator and chill at least 1 hour. Use in your favorite Holiday pie recipe. Dough may be stored, frozen, up to 1 month.