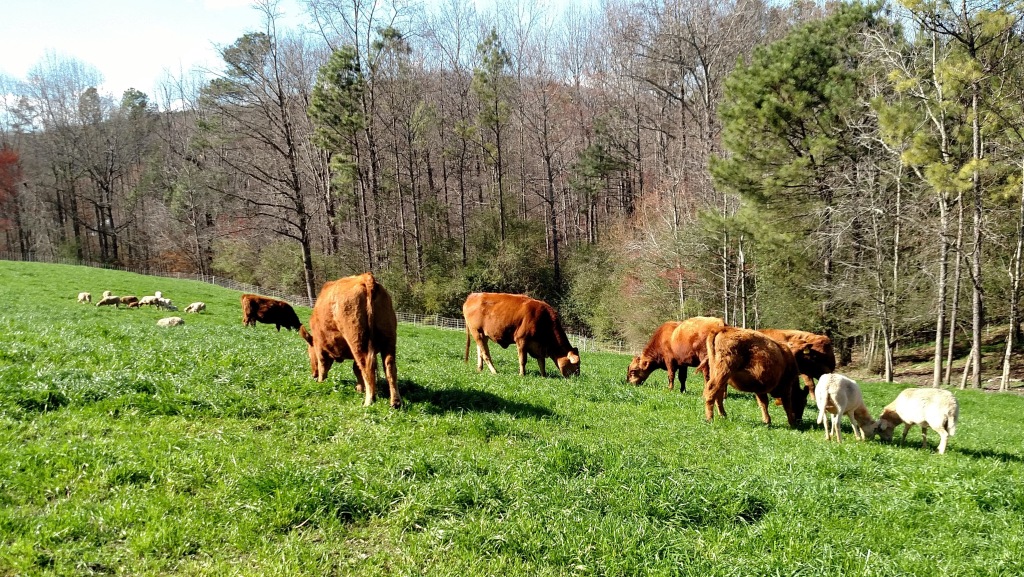 We want to remind you that we'll be at the Carrollton Holiday Gift Bazaar and Farmer's Market this Saturday, November 18, from 9am-5pm. The Bazaar will be held at the East Carroll Rec Center, which is located at 410 Northlake Drive. In addition to the familiar vendors of the Cotton Mill Farmer's Market, there will be local crafters and artisans, as well as many family friendly activities. It's a great opportunity to pick up some Christmas gifts and to get some of your holiday grocery shopping out of the way a little early. We'll be fully stocked with our Dennis Farms Primeburger, Whole Hog Sausage, Pork Cuts, Leaf Lard, and Lamb.
To inspire your Holiday menus, we wanted to share some recipes that work particularly well with our products. Last week we showcased our Whole Hog Sausage and Leaf Lard by sharing our recipes for breakfast casserole and pie dough; this week we'd like to offer a suggestion for our Primeburger or Ground Lamb. We love to make Shepherd's Pie – it is a delicious and versatile comfort food that makes a great dinner for your family. If you'll scroll to the bottom, you'll find our favorite recipe.
We would love for you to stop by the Holiday Bazaar and say hello as we enter this 2017 Holiday Season.
We appreciate your continued support of our farm and our efforts to provide you and yours with a healthy, wholesome, quality product. We look forward to seeing you there!
SHEPHERD'S PIE
serves 6
4 cups mashed potatoes
garlic salt
1 lb ground meat, either Dennis Farms Primeburger or Ground Lamb
1 medium onion, chopped
2 garlic cloves, minced
3 Tablespoons flour
1 Tablespoon tomato paste
1 Tablespoon Worcestershire sauce
1 Tablespoon soy sauce
1 can (14.5oz) chicken broth
2 cups frozen vegetable medley
Pre-heat oven to 400 degrees. Brown meat in a large skillet over med-high heat. Once some of the fat renders out and meat is starting to brown, add onions and garlic and continue cooking. When meat is completely cooked, stir in flour and cook for 1-2 minutes.
*Note: our Primeburger is very lean, so you may need to add a little olive oil, or perhaps some of our Dennis Farms Leaf Lard, to the pan to add a bit of extra fat. There should be at least 2 Tablespoons of fat in the pan at the point at which you add the flour.
Stir in tomato paste, worcestershire sauce, soy sauce and chicken broth. Simmer for 5-6 minutes, or until sauce is thickened. Turn the heat off and stir in frozen vegetables and salt and pepper, to taste.
Pour beef mixture into a large, oven-proof casserole dish. Top with mashed potatoes and smooth with a spatula.
Place casserole dish on a large sheet pan (in case the sauce overflows) and bake for 20-30 minutes, or until top is golden brown. Ladle and serve!